Diversity, Equity, Inclusion and Belonging
At the Hilton Foundation we are committed to diversity, equity, inclusion and Belonging (DEIB) in all we do.
Our Commitment
Core DEIB principles are woven through the fabric of our being. More than 75 years ago, our founder Conrad N. Hilton expressed their essence in his own words. And later his son Barron, the Foundation's most significant benefactor, was ahead of his time in understanding and acknowledging the value of listening to and learning from those with lived experience. 
Today, we are on a continuing learning journey. We use DEIB principles coupled with our founder's intent to guide us, both internally and in how we work in the world. Day to day, through adherence to our values – Integrity, Thinking Big, Humility, Stewardship, and Compassion – we strive to elevate the voices of those impacted by systemic disparities across race, gender and class lines to support long-lasting social change. 
How We Define DEIB
DIVERSITY
Diversity recognizes the intersectionality in each of us. A diverse culture welcomes differences in race, ethnicity, gender, sexual orientation, socio-economic status, age, physical abilities, religious beliefs, political beliefs, and other ideologies. We welcome and celebrate different experiences, employ people from all walks of life, and grant to organizations that are often underrepresented.
EQUITY
Equity is a process and a tool. Equity ensures fairness and acknowledges the barriers that lead to unequal starting places and unjust outcomes. People of color, women, LGBTQI+, those with disabilities and those with lower socioeconomic status are among the groups that most often experience disadvantage.
INCLUSION
Inclusion ensures all people feel welcome, comfortable and safe. An inclusive workplace sees the inherent worth and dignity of all people and provides access to opportunities and resources for people who might otherwise be excluded or marginalized.
BELONGING
Belonging is the desired outcome of Diversity, Equity, and Inclusion working together to fuse a culture that engages the full potential of the individual, where innovation thrives and views, beliefs, and values are tools to elevate the combined efforts of the organization.
Our Approach
We believe that focusing on DEIB is not only the right thing to do; 
it also improves our culture, enables us to better reflect the world, and ultimately, helps our work have greater impact.  Here's why:
We operate in a global context, and consider ourselves to be partners with those we serve and with our grantees, peer funders, and other collaborators across sectors and geographies. To do this work effectively, we must continuously improve our reach and understanding, represent people in the communities we serve ethically, involve people with diverse perspectives in our decision-making, and create an atmosphere that supports positive, productive relationships and communications.
Working with individuals from different backgrounds leads to a variety of ideas, knowledge, and ways of doing things. We make deliberate and systematic efforts to ensure that our workforce includes staff from various social and cultural backgrounds, in order to widen the range of perspectives, knowledge, and approaches we bring.
Where We Are in Our DEIB Journey
Driven by our leadership team and board of directors – and supported by expert outside consultants and our DEIB Advisory Group (whose membership is comprised of rotating staff volunteers with an interest in advancing diversity, equity and inclusion inside and outside the Foundation) – we have initiated a number of activities over the past several years. All this work is designed to strengthen our community and culture through increased intentional focus on listening, learning, evolving, and infusing what we learn into our operations and programming.
Examples of steps we've taken along our journey so far include DEI workshops for staff and board (ongoing), a comprehensive DEI assessment in 2019, and the defining of our Foundation-wide DEI approach in 2020, which included setting measurable DEI goals on the organizational, departmental, and individual levels.
Formation of DEI AG

Intro to DEI Workshops (delivered annually)

DEI Assessment Internal Baseline and Recommendations

Define DEI Organizational Approach and Definitions +$5M Racial Equity Grants

The Foundation increased the Racial Equity and Justice Fund to $10M + Operationalize DEI in Departments

Incorporation of Juneteenth as a Foundation paid holiday

Belonging added to DEI (DEIB) + DEIB Workshop 2.0
In 2020, our DEI Advisory Group distributed $5M through our Racial Equity and Justice Fund. These unrestricted grants were made to twelve Black-led organizations: two operating nationwide, six working in the American South, and four based in (and focused on) California communities. In consideration of this grantmaking, the Advisory Group followed the lead of people with lived expertise, holding conversations with Black activists and nonprofit leaders around the country and ultimately funding a variety of work that includes organizing, movement building, journalism, 
economic justice, workers' rights, and other related initiatives that are making progress toward long overdue structural changes in our nation. 
In 2021, the Foundation increased the Racial Equity and Justice Fund to $10M.
2022Employee Demographic Snapshots
Each year the Talent & Culture team issues a visual dashboard that reports data on employee demographics, recruitment and retention activities, plus performance and engagement. Having access to this data supports us as we work together to maintain a diverse and balanced workforce. Here are a few snapshots from our 2022 dashboard.
Our Workforce by Ethnicity
40.6% White

21.5% Hispanic

15.7% Asian

7.2% African-american

6.5% More than two races

2% Native American / Pacific Islander

0% American Indian

8% did not participate

6.5% PREFER NOT TO DISCLOSE
Ethnicity has been self-identified (Using EEOC categories – White, American Indian, Asian, Hispanic, African American, more than 2 races)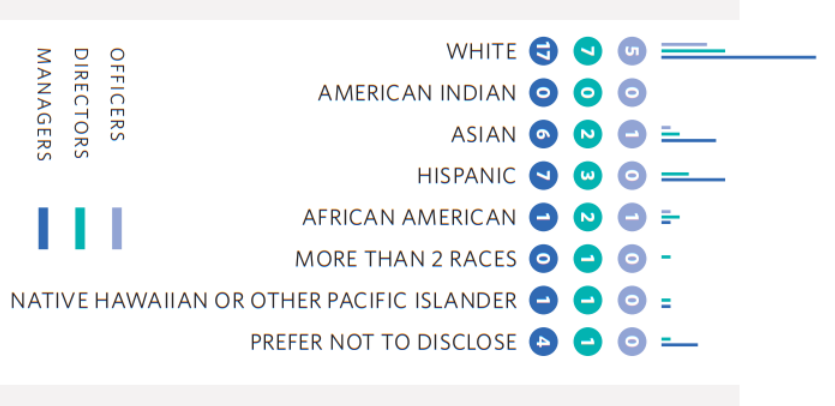 Our Workforce by Gender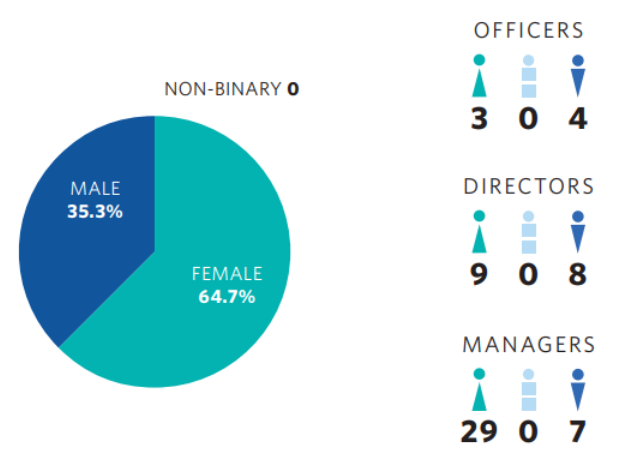 Our Workforce by Generation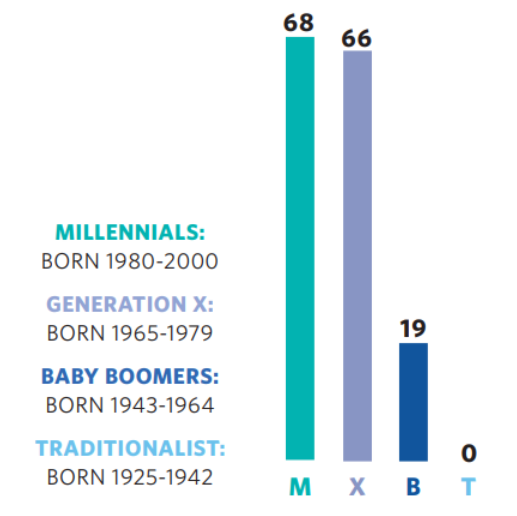 Work in Progress
We've taken all we've learned through the activities noted above and are beginning to expand DEIB efforts in each of our departments and initiatives. Some examples of this work include:
Board of Directors' full endorsement of recommendations coming out of our DEI assessment, and approval of increased and ongoing Equity Fund to support organizations led by people of color and other historically excluded groups. 

Formal establishment of equity lens through which our program strategies, grantmaking, partnership and advocacy activities are considered – taking into account race, gender, sexual orientation, and a number of other factors. 

Increased funding to local/community-based organizations; community engagement in program design and evaluation; and revamped grant application and prize nomination processes that foster greater inclusion. 

Collection of demographic data of the leadership at our grantee partner and prize finalist organizations, as well as our investment fund managers.

Intentional and methodical use of Hilton Foundation's influence and convening power to make space for people with lived expertise at decision making tables. 

Update of Hilton Foundation's website, collateral materials, social and digital presence to model and promote the ethical representation of people with lived experience by sharing first person accounts, advice, and guidance from those we support.

Greater accessibility to our Humanitarian Prize Symposium and other Foundation-hosted and sponsored events throughout the year; removing economic and geographic barriers to attendance wherever possible by reimagining formats to include virtual participation. 

Launch of new Hilton Humanitarian Prize Laureate Virtual Leadership Institute, with first cohort including diverse professionals based out of 24 countries. 

Revised recruitment efforts; more robust staff analytics on the diverse attributes of our employees; updates to departmental and Foundation-wide policies and principles; and increased focus on career development and retention of the Foundation's work.

Full upgrade of contracts process to encourage increased usage of diverse vendors, with a focus on eliminating potential for bias throughout the process; and implementation of a mandatory, inclusive RFP/RFQ process for larger contracts. 

Centralization of the anonymous reporting function within our Office of the General Counsel, including enhancements to ensure equitable treatment and safeguarding of our DEIB values. 
Along with the Hilton Foundation's commitment to DEIB comes our steadfast belief that by working together with our communities, partners, and peers, we can help eradicate racism and other forms of oppression; as well as dismantle the structures and rhetoric that dehumanize, divide, and promote inequities in our society.
Thank you for traveling on this journey with us as we work toward our shared goal to improve people's lives worldwide.