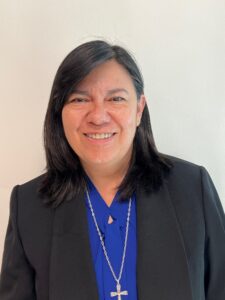 Sr. Hortencia Del Villar has been a missionary of sisters of the Guardian Angel for 22 years. As a senior program officer, she is responsible for providing strategic leadership and portfolio management for the Catholic Sisters initiative. She focuses on supporting congregations, organizations and human development activities in the U.S. and Latin America. Part of her responsibilities include initiating and sustaining external partnerships with grantees, stakeholders, policy decision makers, and other funders.
Over the past eight years, Del Villar served as director of social concerns and community outreach for the Catholic Diocese of San Bernardino. She was responsible for coordinating direct services for low-income families, advocacy, and capacity building. She served as the diocesan director for Catholic Campaign for Human Development (CCHD) of the United States Conference of Catholic Bishops and supported CCHD local grants for community organizing partners to address poverty and injustice. She worked closely with Catholic Relief Services on promoting solidarity programs and campaigns to address hunger, refugee crisis and natural disasters at the international level.
Del Villar worked for 14 years as a missionary in the Philippines, Mexico and El Salvador and worked in family counseling and prevention of human trafficking and forced migration. She holds a Master of Science in Psychology from California State University, Los Angeles and a Bachelor of Arts in Religious Studies from Mount St. Mary's University, Los Angeles.