On Thursday October 26, hundreds of leaders came to Skirball Cultural Center to participate in the 2023 Hilton Humanitarian Symposium and Prize Ceremony honoring the 2023 Hilton Humanitarian Prize recipient, One Acre Fund. This year's theme "Roots of Resilience" guided the topics addressed at the daylong symposium by esteemed speakers, including: Soledad O'Brien, Dr. Rajiv Shah, Emtithal Mahmoud, C.D. Glin, Xiye Bastida, and many more.
Peter Laugharn, Hilton Foundation President and CEO, grounded the morning with a reflection: "Our world is full of remarkable goodness and light, and yet, at times, it is also beset by destruction and darkness. As we convene today, we have the opportunity to bring more light into the darkness. We can engage in constructive and contemplative conversations around some of the most pressing issues affecting humanity around the globe, including hunger and climate change. In our own small way, we can help repair some of what is broken in our world."
Beginning the program with artistic expression, writer and poet Clint Smith offered powerful reflections through poetry from his newest collection, Above Ground, and sat down with The California Wellness Foundation's Senior Advisor Judy Belk for a heartwarming and inspiring conversation.
The conversation that followed, "Catalysts Of Change: The Global Impact Of Black Feminist Movements," was moderated by Award-winning Journalist, Media Executive, and Author Isha Sesay, with panelists Amoretta Morris, President, Borealis Philanthropy; Janis Rosheuvel, Senior Strategist for Learning and Reflection, Solidaire Network; and Tynesha McHarris, Co-Founder, Black Feminist Fund. Morris highlighted we can all support the work of Black feminist movements. "We are leaderful organizations, families, communities, and each of us have a role to play, in whatever scope our decision-making is, to interrogate the practices that are no longer serving us."
Next came a panel discussion entitled "Cultivating Action: The Power Of Narrative." The panel was moderated by Raj Kumar, President and Editor-in-Chief, Devex, in discussion with Kirsten Gelsdorf, Professor of Practice and Director of Global Humanitarian Policy, Batten School of Leadership and Public Policy, University of Virginia, and Phillip Picardi, Chief Marketing and Communications Officer, Los Angeles LGBT Center. Gelsdorf challenged the audience to consider what lies in the roots of humanitarianism—and the power of stories to connect people to purpose: "A lot of times, when you think about humanitarian aid, you think about humanitarian need and humanitarian response—and those are to me the branches and the leaves—but what's in the ROOTS is this shared sense of humanity and being able to connect to the rest of the world, and to be able to feel the feelings that come with crisis."
Afterward, Peter Laugharn sat down with Alicia Ely Yamin, Lecturer, Harvard Law School, and Senior Advisor, Partners In Health (Prize Laureate); Dr. Angela Gichaga, CEO, Financing Alliance for Health; and Dr. Githinji Gitahi, Group CEO, Amref Health Africa (Prize Laureate), for the panel "Funding A Healthier World: When Human Rights Drive Decisions." Dr. Gichaga warned, "We are trying to oversimplify what is complicated, and then we complicate what is very simple. We say, 'this is where health ends, this is where climate starts, this is where climate ends, this is where education starts.' And the truth is, it is an entire system, and we have created fake boundaries. The question should be 'What is needed for humans to thrive, and then, what is my role in contributing to that?'" Yamin agreed, "We live in an era in poly-crisis and we need to start thinking and acting that way."
Later that afternoon, programming resumed with the 2023 Hilton Humanitarian Prize Ceremony honoring the 2023 Hilton Humanitarian Prize recipient, One Acre Fund. Andrew Youn, CEO and Co-founder of One Acre Fund, received the award on behalf of the organization. In his acceptance remarks, Youn celebrated who he believes to be the true honorees—smallholder farmers: "One Acre Fund is so proud to serve the hardest-working, most powerful people on earth. Every day, they wake up ready to feed their communities, steward their land, and to earn a path to prosperity. I hope you will join me in a round of applause for this year's honorees: smallholder farmers."
Dr. Rajiv Shah, President, The Rockefeller Foundation, came on stage next, during the session "Making Big Bets For Large-Scale Change." He shared, "To me, One Acre Fund is 'The Big Bet'. It's the basic idea that the world's poorest people have the world's strongest capacity to end poverty." In closing, he encouraged audience members to have the resolve to launch their own Big Bets, in partnership with others, to create a better future: "It's realistic to be optimistic about our ability to end poverty."
The next panel discussion, "Ending Global Hunger," was moderated by C.D. Glin, President, PepsiCo Foundation, and Global Head of Philanthropy at PepsiCo, Inc., with panelists Doreen Ndishabandi, Chief People and Partnerships Officer, One Acre Fund, Rwanda; Dr. Gérardine Mukeshimana, Vice-President of the International Fund for Agriculture Development (IFAD); and Rebecca Vetharaniam Richards, Chief, Global Network Against Food Crises, Humanitarian-Development, Programme & Policy Division, World Food Programme. Richards reflected on the topic of the conversation and its relation to Prize Recipient organization One Acre Fund, "I think the work of One Acre Fund is a perfect example of grassroots level, community-based action. I think when that joins together with government, with multilateral stakeholders, you start to see a real shift in the paradigm. A real chance to talk about lasting solutions."
Emtithal Mahmoud, Poet, Activist, Founder, and UNHCR Goodwill Ambassador, debuted a new poem, "The Song Of The Earth" before joining her co-panelists Hindou Oumarou Ibrahim, Environmental Activist and Advocate for Indigenous Inclusion and Xiye Bastida, Climate Justice Activist and Member of the Mexican Otomi Indigenous Community, on stage for the session "The Roots Of Resilience: Indigenous-Led Response To Climate Change" moderated by Zainab Salbi, Founder, Women for Women International, TV Host, and Author. Bastida powerfully challenged the audience to reframe the discourse around climate change, by rooting ourselves in indigenous experience and wisdom, "The modern conversation around climate change is about the end of the world, the catastrophes coming, but let me remind you, indigenous communities have already gone through our ends of the world. And now we are in the process of surviving, and rebuilding, and coming back from the ashes. And so, our attitude of this world is one of building, is one of positivity…. So, let's stop talking about the climate crisis as an apocalypse, let's start talking about it as the healing of the disconnect that we have had in this world. And indigenous wisdom is at the center of it, because of the fact that we see ourselves as an extension of nature by being."
The afternoon ended with a special musical performance by Award-winning Singer-Songwriter Lokua Kanza. A UNICEF ambassador in his native country of the Democratic Republic of the Congo (DRC), he mentors young, promising musicians in the DRC, and brought six of them with him to Los Angeles for the Prize event—their first trip outside of the DRC—to grace the audience with a memorable end to the day.
The playlist below contains recordings from the event. The icon in the upper-right of the video embed lists available videos.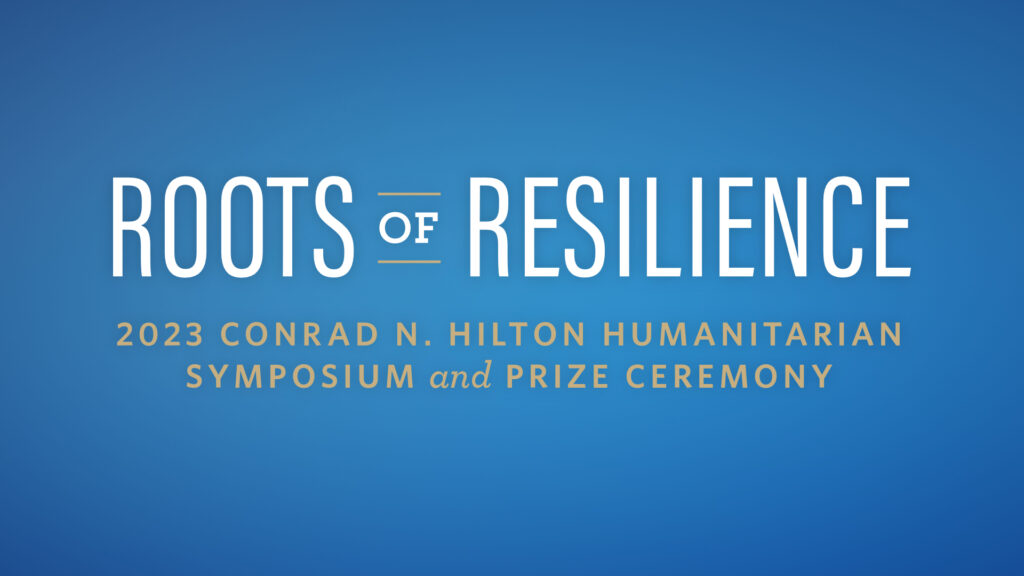 Click the

icon to see all videos in playlist.
AGENDA
Note: All times listed are PT
9:30 A.M.
WELCOME REMARKS

Maggie Miller
Senior Director, Hilton Humanitarian Prize, Conrad N. Hilton Foundation

Linda Hilton
Vice Chair of the Board, Conrad N. Hilton Foundation

Jessie Kornberg
President and CEO, Skirball Cultural Center

Peter Laugharn
President and CEO, Conrad N. Hilton Foundation

Soledad O'Brien (Master of Ceremonies)
CEO; Journalist; Producer; and Philanthropist
9:45 A.M.
ABOVE GROUND: A POETRY READING WITH CLINT SMITH

Clint Smith
Writer; Educator; and Poet
10:00 A.M.
Clint Smith Interview with:
Judy Belk
Senior Advisor, The California Wellness Foundation
10:15 A.M.
CATALYSTS OF CHANGE: THE GLOBAL IMPACT OF BLACK FEMINIST MOVEMENTS

Tynesha McHarris
Co-Founder, Black Feminist Fund

Amoretta Morris
President, Borealis Philanthropy

Janis Rosheuvel
Senior Strategist for Learning and Reflection, Solidaire Network

Isha Sesay (Moderator)
Award-winning Journalist; Media Executive; and Author
10:50 A.M.
Break
11:05 A.M.
CULTIVATING ACTION: THE POWER OF NARRATIVE

Kirsten Gelsdorf
Professor of Practice and Director of Global Humanitarian Policy, Batten School of Leadership and Public Policy, University of Virginia

Phillip Picardi
Chief Marketing and Communications Officer, Los Angeles LGBT Center

Raj Kumar (Moderator)
President and Editor-in-Chief, Devex
11:40 A.M.
FUNDING A HEALTHIER WORLD: WHEN HUMAN RIGHTS DRIVE DECISIONS

Dr. Angela Gichaga
CEO, Financing Alliance for Health

Dr. Githinji Gitahi
Group CEO, Amref Health Africa

Alicia Ely Yamin
Lecturer, Harvard Law School; and Senior Advisor, Partners In Health

Peter Laugharn (Moderator)
President and CEO, Conrad N. Hilton Foundation
12:15 P.M.
Break
1:15 P.M.
HILTON HUMANITARIAN PRIZE CEREMONY HONORING ONE ACRE FUND

Video Presentation

Presentation of the 28th Conrad N. Hilton Humanitarian Prize
Peter Laugharn
President and CEO, Conrad N. Hilton Foundation

Acceptance Remarks
Andrew Youn
CEO and Co-Founder, One Acre Fund
1:35 P.M.
MAKING BIG BETS FOR LARGE-SCALE CHANGE

Dr. Rajiv Shah
President, The Rockefeller Foundation
1:50 P.M.
ENDING GLOBAL HUNGER

Dr. Gérardine Mukeshimana
Vice-President of the International Fund for Agriculture Development (IFAD); and Former Minister of Agriculture and Animal Resources, Republic of Rwanda

Doreen Ndishabandi
Chief People & Partnerships Officer, One Acre Fund, Rwanda

Rebecca Vetharaniam Richards
Chief, Global Network Against Food Crises, Humanitarian-Development, Programme & Policy Division, World Food Programme

C.D. Glin (Moderator)
President, PepsiCo Foundation; and Global Head of Philanthropy at PepsiCo, Inc.
2:25 P.M.
Break
2:40 P.M.
THE SONG OF THE EARTH: POETRY DEBUT BY EMTITHAL MAHMOUD

Emtithal Mahmoud
Poet; Activist; Founder; and UNHCR Goodwill Ambassador
2:50 P.M.
THE ROOTS OF RESILIENCE: INDIGENOUS-LED RESPONSE TO CLIMATE CHANGE

Xiye Bastida
Climate Justice Activist and Member of the Mexican Otomi Indigenous Community

Hindou Oumarou Ibrahim
Environmental Activist and Advocate for Indigenous Inclusion

Emtithal Mahmoud
Poet; Activist; Founder; and UNHCR Goodwill Ambassador

Zainab Salbi (Moderator)
Hilton Humanitarian Prize Juror; Founder, Women for Women International; TV Host; and Author
3:25 P.M.
CLOSING REMARKS

Peter Laugharn
President and CEO, Conrad N. Hilton Foundation
3:30 P.M.
MUSICAL PERFORMANCE

Lokua Kanza
Award-winning Singer-Songwriter