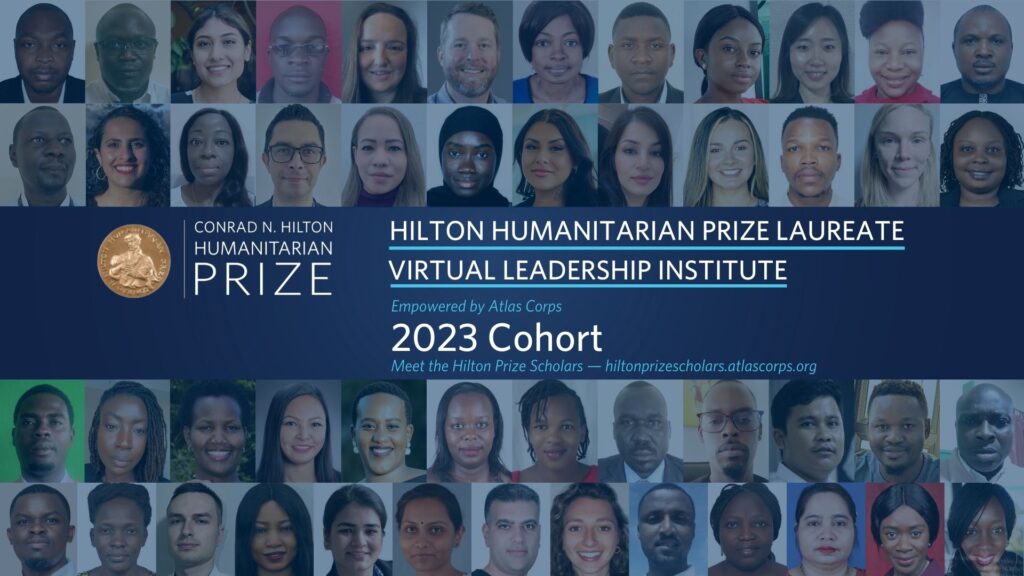 Today, the Conrad N. Hilton Foundation, in collaboration with Atlas Corps, announced the third cohort of the Hilton Humanitarian Prize Laureate Virtual Leadership Institute. Fifty-one Hilton Prize Scholars will participate in a six-month virtual leadership training opportunity that will provide valuable professional development to empower social change advocates exclusively within the Prize Laureate community. Representing 18 of the 27 Prize Laureate organizations, this cohort includes professionals from 27 countries with backgrounds ranging from project management and human resources to monitoring and evaluation. These humanitarian leaders serve their communities in the fields of youth development, women's empowerment, education and more.
"As the world's largest annual humanitarian award presented to nonprofit organizations, we are excited to be able to invest in emerging professionals within the Hilton Humanitarian Prize Laureate organizations. We're thrilled to see this dynamic network grow and proud to partner with Atlas Corps in strengthening humanitarian leadership worldwide," shared Maggie Miller, senior director, Hilton Humanitarian Prize at the Conrad N. Hilton Foundation.
The Institute will focus on the three leadership themes of Developing Self, Developing Others and Leading Movements, while also strengthening connections within the Prize Laureate community. This six-month online learning community features keynote speakers, interactive workshops, self-guided assignments and community-building activities in collaboration with prominent U.S. organizations and leaders. Throughout the program, participants will have access to unlimited coaching, and customizable programming tailored to the needs of this diverse group of social change makers. Participants, also known as Hilton Prize Scholars, will also each work on an individual leadership project that benefits the Laureate organization where the Scholar works. In addition to engaging within the Prize Laureate community, Scholars will become members of the broader Atlas Corps Community of nearly 1,700 professionals from 116 countries.
"Atlas Corps is honored to collaborate with the Conrad N. Hilton Foundation and to support rising leaders in the humanitarian field. Leaders who are working on the frontlines of the world's most critical emergencies and conflicts deserve the best possible leadership development, coaching and well-being support. I'm eager to welcome the latest cohort and to continue creating opportunities and a support network for those who are serving others in need," said Bidjan Nashat, CEO of Atlas Corps.
For more details or to learn more about this group of Scholars, please visit hiltonprize.atlascorps.org.