From March 20 to March 23, Marc Holley, vice president, strategy and programs, and Sr. Jane Wakahiu, LSOSF, associate vice president and head of the Catholic Sisters initiative at the Conrad N. Hilton Foundation, met with leaders at the Vatican to learn first-hand how grants from the Hilton Foundation are supporting integral human development and lifting up the voices of Catholic sisters as they walk alongside people on the margins of society. The highlight of the visit was an audience with Pope Francis, who is celebrating his 10th anniversary as Supreme Pontiff this month.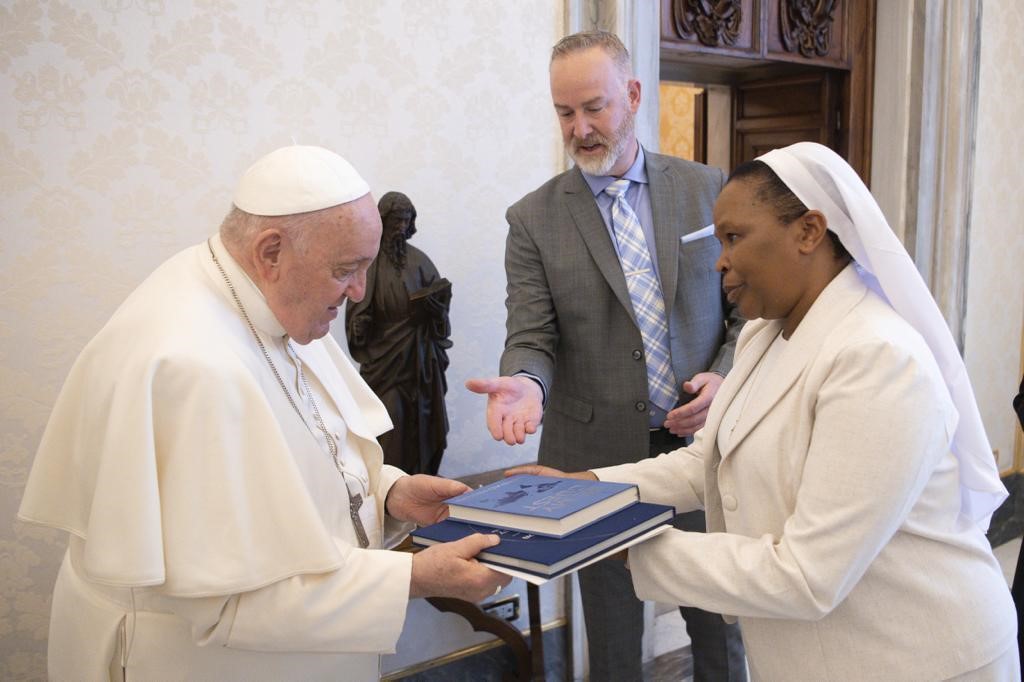 In their audience with Pope Francis, Holley and Sr. Wakahiu offered heartfelt congratulations on a historic first decade of leadership of the church and in society. Holley assured Pope Francis of the Hilton Foundation's alignment with Catholic social teaching, as expressed in the Foundation's vision to "love one another" and our mission to alleviate human suffering.
Pope Francis was quite pleased when Sr. Wakahiu described the Foundation's support for the education and on-going formation of Catholic sisters. The Supreme Pontiff was also grateful for the Foundation's concern for elderly sisters, including the development of a global fund to care for aged and infirm sisters. "It was an inspiring encounter that explicitly demonstrated the Pope's tenderness, compassion and joy," remarked Sr. Wakahiu.
As a gift, Holley and Sr. Wakahiu presented Pope Francis with two special books: Be My Guest and The Hilton Legacy: Serving Humanity Worldwide. In Be My Guest, Conrad N. Hilton recounts his dramatic rise from humble beginnings to world-famous hotelier. Of special note to Pope Francis may be Hilton's emphasis on his faith in God, reliance on prayer, and his mother's insistence that he attend Catholic school.
The Hilton Legacy: Serving Humanity Worldwide is a thorough account of the Foundation's work as rooted in the last will and testament of Conrad N. Hilton. The Hilton Legacy may interest Pope Francis in its declaration that, "the most enduring influences to shape Conrad N. Hilton's philanthropic philosophy, beyond those of his parents, were the Roman Catholic Church and its Sisters." Hilton held Catholic sisters in such high esteem, that he charged the Foundation to:
"Give aid to…the sisters, who devote their love and life's work for the good of mankind, for they appeal especially to me as deserving help from the Foundation…It is my wish…to have the largest part of your benefactions dedicated to the sisters in all parts of the world."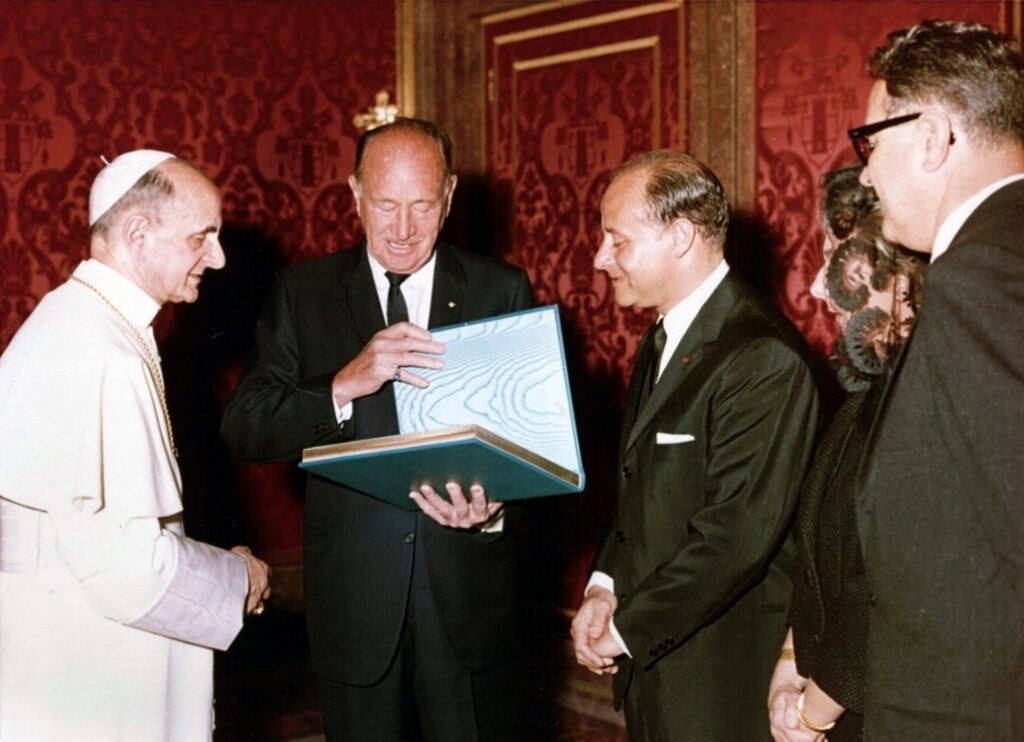 Hilton's generous recognition of Catholic sisters parallels Pope Francis' generous recognition of women religious, as he consistently and enthusiastically voices appreciation for sisters' leadership and faithful service. Holley remarked that Hilton was a man of faith and prayer, and Pope Francis – expressing himself eloquently in English – promised to pray for the Foundation. In turn, Sr. Wakahiu assured the Holy Father of her continued prayers. "I was deeply moved," shared Sr. Wakahiu. "I will forever cherish this encounter."
In a Vatican Radio interview, Holley outlined the Catholic Sisters initiative's four strategy areas: Sisters' Education, Formation and Care; Ministries to Develop Human Potential; Elevation of Sisters' Voices; and Research and Evaluation. Holley commended sisters' ministries to people living in conditions of disadvantage, and referenced Hilton's entrepreneurial spirit in relation to sisters' creative ways of helping people obtain sustainable livelihoods.
Listen to the Vatican Radio Interview here:
Holley and Sr. Wakahiu were delighted to meet with a variety of grantee partners who collectively support hundreds of thousands of Catholic sisters in their commitment to serve the poor, uphold the value of human dignity, and walk with others in a spirit of love and understanding. Visits with leaders from the following organizations, underscored the importance of lifting up the voices of Catholic sisters and their ministries: the Dicastery of Communication, the Dicastery for Institutes of Consecrated Life and Societies of Apostolic Life, Dicastery of Integral Human Development, Pontifical Gregorian University, World Union of Catholic Women's Organisations and the International Union of Superiors General.

These grantee partners train women religious in theology, canon law, interculturality, management, communications and the safeguarding of children and vulnerable adults. The Foundation's investments in Rome also develop worldwide networks of sisters who share best practices in assisting survivors of human trafficking; providing job skills for migrant and refugees; and mitigating gender-based violence.

Engagement with Vatican partners highlighted the ways in which Catholic sisters' compassionate accompaniment of people living on the peripheries of society embody Conrad N. Hilton's words that are part of our vision statement: "Love one another, for that is the whole law. The peoples of the world deserve to be loved and encouraged—never to be abandoned to wander alone in poverty and darkness."