Each year, we celebrate Catholic Sisters Week from March 8-14 to shine a light on Catholic sisters' ministries that are rooted in faith, love, hope and service. While Catholic sisters have long been global leaders working with youth and families to combat poverty and improve lives, in the past three years, COVID-19 has exacerbated the harms of poverty on communities, especially on those already facing economic instability. As trusted members of local communities, women religious continue to stand with and work alongside those who are suffering the most, including women, children and the elderly in devastating economic conditions, particularly in situations of war and migration.
The Catholic Sisters Initiative partners with over 170 organizations across the globe that are doing tremendous transformative work based on the Catholic Social Teaching principles of human dignity, solidarity, subsidiarity and the preferential option of the poor. As I reflect on this tenth annual Catholic Sisters Week, I recognize with gratitude the many sisters working in areas that are beset with hardship and difficulty. These are the sisters who inspired our founder Conrad N. Hilton with their profound commitment to alleviating human suffering. Their sacrificial service exemplify the Hilton Foundation's vision: "Love one another, for that is the whole law. The peoples of the world, deserve to be loved and encouraged – never to be abandoned to wander alone in poverty and darkness."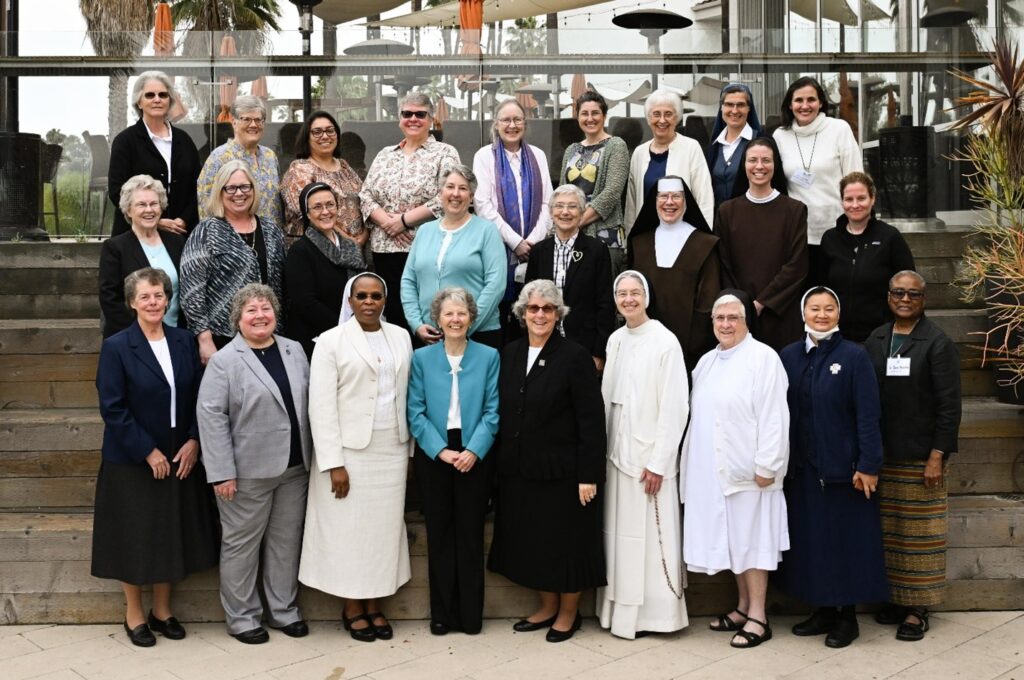 This week, we want to shine a light on sisters who have demonstrated extraordinary resilience, compassion, tenderness and commitment in adversity.
We shine a light on Catholic sisters in Ukraine who continue to display their faith as pillars of peace in difficult moments. They are providing care to the elderly, handicapped, homeless and sick people – embodying the Gospel of Mt. 25:35-36, "For I was hungry and you gave me food, I was thirsty and you gave me drink, I was a stranger and you welcomed me. I was naked and you clothed me, I was sick and you visited me, I was in prison, and you came to me." Silently, they walk their day offering tender compassion and hope, touching each life with their presence.
We shine a light on purposeful collaboration for the common good as seen in the Catholic Sisters Inter-Congregational Network for Migrants and Economic Empowerment, which has drawn over 26 women religious-sponsored ministries along the U.S. and Mexico border to partner to promote the human dignity and well-being of children, youth and families. Spearheaded by the Sisters of Charity of the Incarnate Word Sisters, this network has connected hospitals, universities, and social service ministries to improve the quality of care and identify individuals at risk who are not accessing services.
We shine a light on the U.S. Catholic Sisters Against Human Trafficking (USCSAHT), a national collaborative network providing education, survivor services, advocacy and working to eradicate modern-day slavery. USCSAHT is a member of the global network of Catholic sisters, Talitha Kum International, an initiative against human trafficking and exploitation, and promotes collaboration at national, regional and continental levels, actively supporting victims, survivors and people at risk.
We shine a light on the many sisters, congregations, and ministries that provide essential services to break the cycle of poverty, helping children, youth and families to thrive. We shine a light on women of faith, giving voice to the voiceless, healing, reconciling and overcoming obstacles to continue the journey together in peace and harmony and promoting and protecting the dignity of those excluded by recognizing their agency and ability to participate and contribute to the community.
Thank you to all my sisters across the globe: your way of life and work quintessentially demonstrate the ecclesial moment articulated by the synod of synodality, "walking together" as we fulfill our charisms and mission in the Church and society.